Aprilia Dorsoduro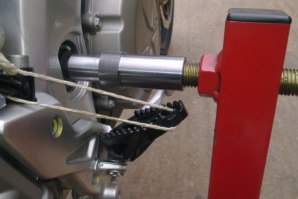 Because of the Supermoto style of bike the Dorsoduro is, the foot pegs are naturally closer to the swing arm pivot than any conventional sports bike.
The right hand side rider foot peg needs to be folded and tied in the upright position so that it does not come into contact with our Stand/Lift.
This only applies to the right hand side foot peg. The left hand side can be left as normal.
FAQ regarding this kit:
Question: "Why can abba not make the right hand side fitting longer so the stand clears the length of the foot peg?"

Answer: Unfortunately if the fitting was any longer the right hand side of the abba Stand/Lift could not be fitted to the base of left hand side of the stand
Question:"What will happen if i do not fold and tie up the right hand side foot peg?"

Answer: If using the abba Superbike Stand on this bike then all that will happen is the peg will rub up against the stand. Many customers do not fold and tie up the foot peg providing they are happy for a few small marks to occur on the end of the peg and (mainly) on the abba Superbike Stand. We do advise you at least fold and tie up the foot peg for the first initial use of the stand so you can fully understand the situation.
If using the abba Sky lift and lifting in all 3 positions then we recommend you have the peg folded and tied up at all times. If not, then it is possible the peg could actually catch and fail the lift when lowering from a stoppie position for example.
If you require any further information on the this please do not hesitate to contact us.