Triumph Swing-Arm Pivot Covers
Speed Triple 1050 R (2016 - On)
Speed Triple 1050 RS (2018 - On)
Street Triple 765 (2017 - On)
Street Triple 765 S (2017 - On)
Street Triple 765 R (2017 - On)
Street Triple 765 RS (2017 - On)
Tiger Sport 1050 (2016 - On)
Tiger 800 (2018 - On)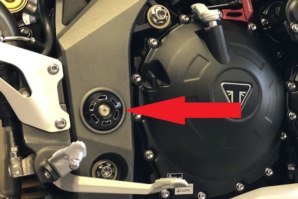 The above Triumph models have a small aluminium cosmetic cap that covers the swing arm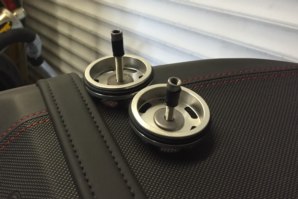 pivot. This cap needs to be removed on each side of the bike before using the abba Superbike stand or abba Sky Lift, fortunately the cover is very easy to remove, it takes just a few seconds.
With a hex key (normally 3mm) simply loosen the small bolt a few turns (Its advised not to fully undo the bolt) Then simply pull the cap, with the bolt still in place fully out. By doing this the small rubber expanding grommet that holds the cap in place will come out all as one piece. Unscrewing the bolt fully would leave the rubber grommet in the bike and it could easily get lost.
Once you have finished using the stand/lift , simply slide the grommet and cover back in place and lightly tighten the bolt to retain the cover in place again.
Pictures of the swing swing arm pivot point once the covers have been removed.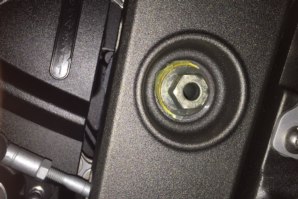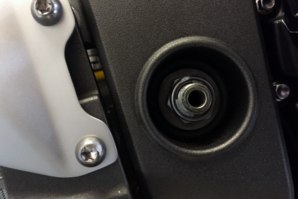 Note: Pictures above are from a Triumph Speed Triple model, the aluminium cover on the Street Triple 765 & Tiger Sport models are slightly different. However the way the covers are removed and fitted is the same as above.
---
Speed Triple 1050 (11 to 15)
Speed Triple 1050 R (11 to 15)
Speed Triple 1050 S (16 - On)
Tiger 1050 Sport (13 to 15)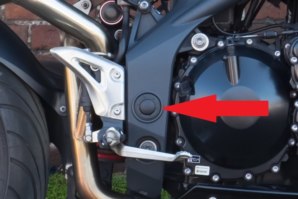 On these models Triumph used a plastic cap which pushes into the swing-arm. To remove the cover you need to take a sharp flat blade screwdriver (or similar) and slide behind the small centre button cap.
Once inserted, lever sideways to remove the button cap. When the Button cap is removed the inner cover will simply fall out.
Tip: The plastic caps can be a little tight to remove for the first time, when re-fitting we advise you put a little grease on the button cap before re-fitting. This will make it much easier to remove from then on.
Other models of the Triumph Street Triple 675 have plastic/rubber covers on the swing arm pivot, these simply just pull off and can be pushed back in place after use.