Product Catalogue
Most Popular stands & Lifts

Stand & Lift Accessories

Other Products

Spares & Accessories
Yamaha TRX 850
When using the stand on the Yamaha TRX850, it is common that the gear linkage arm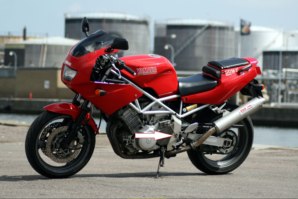 passes across the swing arm pivot bolt head (where the abba Superbike stand and Sky lift connect) As per the picture to the right. Depending on the riders gear lever position it is possible that access is not restricted.
If the linkage arm does pass across the face of the pivot it is a simple case of undoing the small bolt at either the foot peg or gear box end (which ever you find most convenient) to enable our stand or lift to be fitted. Once the stand/Lift has been used you can simply re fit and tighten the small bolt and the bike will be back to its normal mode.
If you require any further information on the this please do not hesitate to contact us.